Background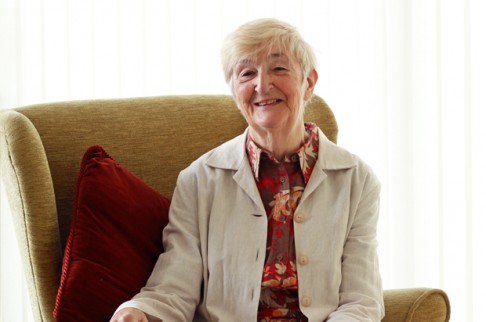 Margaret O'Donoghue is the founder of Cancer Help. This is her story and the story of Cancer Help.
Through her own experience Margaret recognised that there were significant deficiencies in the health service's treatment of cancer patients. Giving up her own career, Margaret established a charity, Cancer Help (Preston), to provide a range of services that are now considered vital to the well being of cancer patients, their families and carers.
Based on current statistics, cancer will affect one in three people in the UK. Following diagnosis cancer patients begin a journey and Cancer Help is there to help at each step of the way – coming to terms with the diagnosis, understanding the disease, coping with the effects of the treatment and above all living a fulfilled life
Cancer Help (Preston) was formed in 1989 and ever since has brought invaluable benefits to countless thousands of cancer patients in the Preston and Garstang areas. Each year the charity provides over 6,000 patient visits/contacts that are free to all cancer patients
Margaret is a state registered nurse who has worked in and around the health service since 1959, initially as a nurse and then health visitor. Her work has included:
1970 – established the Samaritans phone service in Preston;
1978 – established Preston's Well Woman Centre;
1981 – became a founder member of St Catherine's Hospice.
Margaret was concerned by the insensitive manner in which the diagnosis of cancer was delivered, the lack of any support for cancer patients undergoing treatment, the absence of information regarding the disease and the exclusion of the patients' families and carers from the process. She determined to do something about it and single handed established a charity, Cancer Help. Without any initial external funding Margaret set about addressing the issues she was so concerned about:
1988 – started to provide support for cancer patients through a church hall drop in centre;
1988 – established a cancer patient help line;
1989 – formally registered Cancer Help as a charity;
1989 – rented a shop on Plungington Road to generate funds through the sale of used clothing; used the rooms above the shop to see patients;
1993 – purchased Vine House on Cromwell Road, Preston for use as a patient day care centre;
1993 – opened a second shop (New Hall Lane) to raise funds for the renovation of Vine House;
1995 – Vine House opened as a day care centre offering a wide range of services;
1998 – opened a third shop (Berry Lane, Longridge);
2006 – opened a fourth shop (High Street, Garstang) to fund purchase of second day care centre;
2008 – Croston House opened as a day care centre for cancer patients in the north Preston area;
2010 – STRIDE, Children & Young Persons' Bereavement Service commenced.
Throughout her career, and particularly at Cancer Help, Margaret has provided help and support to countless thousands of people in the Preston area.  She has created a charity that:
Provides 6000 patient visits/contacts each year;
Delivers a wide range of invaluable services that are free at the point of use;
Operates two fully staffed day care centres;
Generates the majority of its own funds through four shops, 2 in Preston (New Hall Lane and Plungington), Longridge and Garstang;
Employs 20 staff;
Is supported by over 200 volunteers;
Raises £350,000 each year to cover its running costs.
Through Cancer Help, cancer patients in central Lancashire have access to a wide range of services that are free at the point of use, for example:
Complementary Therapies – physiotherapy, tai chi, meditation and aromatherapy;
Specialist Clinics – palliative care and breathlessness;
Counselling – well being, bereavement and pre-bereavement;
Children & Young Persons support service;
Craft Groups – woodworking, glass engraving and art therapy;
Support Groups;
Information – advice about benefits and access to a wide range of learning materials;
Training – courses and seminars for health care professionals.
Based on its own statistics Cancer Help can show that over 50% of new patients accessing its services are direct referrals from health service professionals. This is because many of the services provided by the charity, whilst recognised as vital to the well being of patients, do not exist in the local health service. Beyond the services provided through the day care centres in Preston & Garstang, Cancer Help also provides a number of out-reach services such as:
Links with local hospitals and specialist nurses;
Work to encourage access by ethnic minorities;
Links with local schools, particularly with reference to bereavement counselling;
Seminars and conferences;
Co-operation with other local charities such as St Catherine's Hospice.
Regardless of its bases being in Preston and Garstang the services are open to all cancer patients, their families and carers. Like cancer, the charity makes no distinction between age, sex, religion or orientation. Margaret's vision has always been to help all cancer patients to live a fulfilled life and to deal with the challenges that the disease presents. Cancer Help is the realisation of Margaret's vision and without her determination, commitment and belief none of this would exist.