News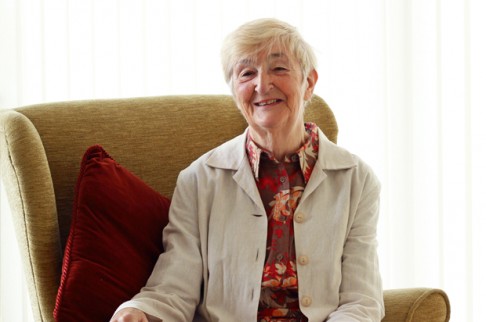 Margaret O'Donoghue, Founder of CancerHelp (Preston) Ltd 
It is with great sadness that the trustees, staff, and volunteers of CancerHelp acknowledge the death of Margaret O'Donoghue, the Founder of the charity. 
Margaret led a remarkable life; a wife, a mother, a grandmother, and the creator of a charity that has benefitted tens of thousands of people in Central Lancashire.
Margaret spent her whole working life from 1959 in healthcare, supporting others. After training as a State Registered Nurse, Margaret worked as a Health Visitor. She became a familiar and supportive presence for many local families, often working with more than one generation. As her career developed, Margaret began to focus on the wellbeing of patients outside the National Health Service. In 1970 Margaret established the Samaritans phone service in Preston, in 1978 the Preston's Well Woman Centre and in 1981 she became a founder member of St Catherine's Hospice.
Whilst caring for her mother, Margaret realised there was little support available for cancer patients and their carers other than the end-of-life care provided by a hospice. These were very different times for cancer treatment. Much of the treatment was delivered at the Christie Hospital in Manchester with consultants occasionally visiting Preston Hospital. There were no Clinical Nurse Specialists and there were fewer treatments available. Those treatments that existed had a significant impact on the physical and mental wellbeing of patients who, to a large extent, were left to cope on their own. Margaret recognised that this could not continue.
In 1988, aided by friends and supporters, Margaret set about raising money to deliver specialist and dedicated cancer support services. CancerHelp was officially registered in 1989 and in 1993 the charity acquired Vine House from where a growing range of services could be delivered. A second service delivery centre, Croston House in Garstang, providing similar services for people north of Preston opened in 2008. 
Both centres delivered a range of services that are now considered vital to the wellbeing of cancer patients, their families, and carers. Margaret's philosophy was to create centres that were professional but welcoming and calming; an essential break for people who spend so much time in clinical environments over many months. 
Establishing, and overseeing the growth of a successful charity for 25 years, is a massive undertaking. The success of CancerHelp is, to a large extent, testament to Margaret's wide-ranging skill set not least her ability to persuade and influence those whose help she needed. As well as founder, she was a cancer support nurse, a listener, a speaker, a fundraiser, an advocate, and a source of help for other charities. Margaret was available 24 hours a day and spent many nights sitting with dying patients or providing respite for families.  
CancerHelp is and will remain Margaret's legacy. It is, as Margaret intended over 30 years ago, the main referral point for healthcare professionals seeking support for people affected by cancer in Central Lancashire.
Margaret O'Donoghue will be missed by everyone associated with CancerHelp and the countless thousands of people she has helped through the charity.
As per Margaret's wishes, the funeral service will be by invitation only.